Grand Prize for 2018
West Coast Kustoms "Cruisin Nationals" Presented by O'Reilly Auto Parts

GRAND PRIZE will be a complete weekend package deal.
For 2019 "Cruisin Nationals"
- 3 Nights at the Santa Maria Inn
- 2 Dinner tickets to the West Coast Kustoms 2019 Hall of Fame banquet
- Free 2019 car entry (Pre 1961)
- $500.00 Cash

All you need to do is register your car for the 2018 "Cruisin Nationals"
Your car entry will make you elgible to win.
You must be present Sunday 5-27-18 at the awards ceremony to win.

---
SIGN THE PETITION! Support (SB1239 Gaines) Exempting Collector Cars & Trucks From Smog Inspections
The goal is to reach 5,000 signatures
Click here to sign now!

13 Month West Coast Kustoms
2018 Custom Car Calendars
Proceeds to Benefit: The Rich Pichette Alzheimer's Awareness Project
$14. US, $16. Canada, $20 Overseas
all include shipping
CLICK HERE FOR MORE INFO
Formed in 1982 for Kustom People...By Kustom People

West Coast Kustoms Cruisin Nationals 2018 will be held in Santa Maria, California
at the Santa Maria Fairpark on May 25, 26 & 27.

If you remember how it was in the nifty fifties, you will recall that it was the West Coast that set the trends, and "Lead" the way in kustomizing. Join us in bringing back those great leadsleds and honoring the many big kustomizers still active on the West Coast. Here is a chance to get that kustom out of the garage, load up the family & join us for some good times.

---
---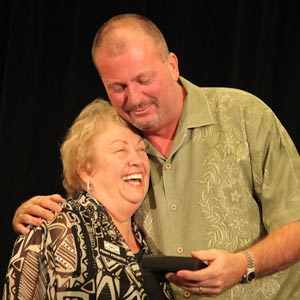 Congrats to Penny Pichette for being inducted into the Grand National Roadster Show Hall of Fame.
click here to read more!



---